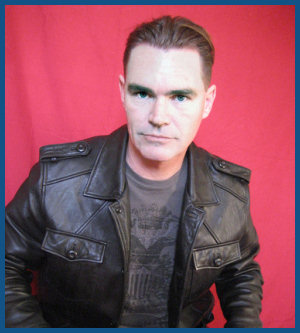 Again, another one of those episodes where I get to talk to an 80s artist that affected my appreciation for music. I can remember listening to a Naive Dance cassette over and over again for many months... I'm sure an old roommate of mine still hears the songs in his head. Of course, many albums have affected me over time but I've been very lucky to have several of them on the show during our first year.
The above photo is from the new Red Flag album, Born Again, due out next month. We played the title track during the show as well as "If I Ever" from their debut, Naive Art. We do that to show the evolution a recording artist goes through during their career. Born Again is that next step. Red Flag principal Chris Reynolds has merged a darker sound with the classic sound of the early recordings to find a fascinating blend. You can hear some of those songs at
RedFlag.org
as well as order the new album.
Seems we had issues again with the show. We usually use a program called Skype to call into the soundboard (at Talkshoe.com) but for a second week was unable to get in. I've been trying to work out those issues. At least, next week will be a normal episode with no fear of having it affect an interview.